Please enjoy ARK Disrupt Issue 88. This blog series is based on ARK Brainstorming, a weekly discussion between our CEO, Director of Research, thematic analysts, ARK's theme developers, thought leaders, and investors. It is designed to present you with the most recent innovation takeaways and to keep you engaged in an ongoing discussion on investing in disruptive innovation. 
1. Long Haul Electric Trucks Will Be Enabled By Battery Swapping
ARK's research on the economic merits suggests that TeslaTSLA will unveil a long haul EV Semi enabled by battery swapping.  Most naysayers believe that the cost to build out battery swapping infrastructure is prohibitive, pointing to the infamous rise and fall of Better Place in the personal vehicle space.
While Tesla's CEO Elon Musk previously hinted at a battery swap solution for long distances, he has pivoted to supercharging in the personal vehicle space while leaving the door open for commercial use cases. Clearly, he concluded that swapping is uneconomic for personal cars.
The answer to long haul in the commercial space seems to be battery swaps, primarily because of the truck traffic concentration on heavily traveled highway routes. The cost of infrastructure for battery swapping seems to be negligible compared to the electricity costs necessary to charge commercial batteries for long haul ranges.
According to ARK's calculations, either Tesla could cover the infrastructure costs by charging truckers slightly more than it would cost to charge a short-haul battery, or it could charge roughly $10,000 more for its EV Semi at the time of purchase and cover the build out of a battery swapping network. In either case, comparing lifetime fueling costs, trucking companies would pay significantly less for an EV truck than a diesel truck.
2. Banning Hate Speech Sets a Dangerous Precedent…and An Opening For Blockchain Technologies
After last week's deadly riots in Charlottesville, internet firms took extensive measures to remove associated content from their services. GoDaddyGDDY and GoogleGOOG dropped Daily Stormer, a prominent neo-Nazi website, from their domain registration services.  Cloudflare, a company that prevents denial of service attacks, did the same. Meanwhile, FacebookFB, Reddit, PayPalPYPL, and Spotify shut down accounts related to white supremacists and other hate groups.
While reasonable and rational on the surface, these moves set a dangerous precedent for censorship that, ultimately, could impact legitimate content. The Electronic Frontier Foundation is advocating for procedural protections based on the Manilla Principles which call for fair hearings and reviews before restricting content.
While traditional internet bodies deliberate the rules of censorship, the next wave of the internet could render such debates moot. Internet services based on blockchain technology are not controlled by a data aggregator or single actor:  they are distributed across many computers, making them censorship-resistant.  All content hosted on blockchain technologies, no matter how dangerous or offensive, is transparent and open for global consumption.
Blockchains promise unfiltered and uncensored freedom of expression. Based on the events of the last few weeks, the question is whether or not society is ready for the concept and its consequences.
3. Australia Makes A Move Toward Regulating Cryptocurrency Exchanges
This week, the Australian government proposed new regulations to address the recent proliferation of fintech startups.  The surge in bitcoin trading, as shown in the chart below, has generated particular interest.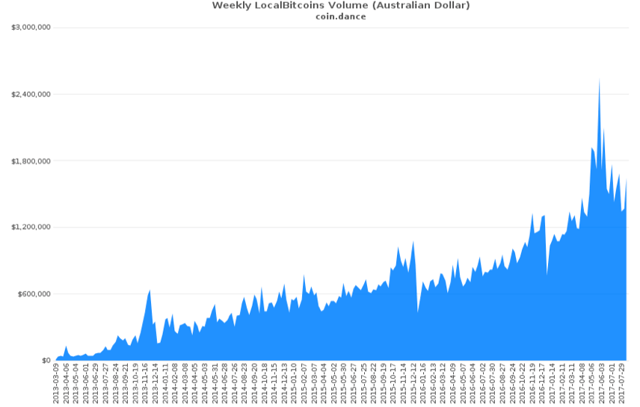 Source: Coin.dance/Volume
First, to strengthen the Anti-Money Laundering and Counter-Terrorism Financing Act, and to bolster the authority of the Australian Transactions and Reporting Analysis Centre (AUSTRAC), the Australian government is introducing reforms to regulate digital currency exchanges.  AUSTRAC's mandate is to reduce the threat of organized crime and terrorism financing. It conducts audits to ensure that exchanges comply with anti-money laundering (AML) and Know Your Customer (KYC) regulations. Interestingly, while not deeming them currencies or commodities explicitly, this legislation does recognize and validate cyrptoassets implicitly.
Second, the Australian Prudential Regulation Authority (APRA) has proposed changes to bank licensing procedures to accommodate fintech start-ups.  Specifically, APRA has proposed phased-in licensing for new entrants with unique business models and advanced technology solutions. Its objective is to foster innovation and competition in the banking sector, to the benefit of consumers and businesses in Australia.
These regulatory proposals will add to fintech's momentum in Australia and elsewhere. Governments around the world seem to understand the need to accommodate fintech, including cryptoassets, to stimulate innovation and remain competitive.
4. Could DNA Aid Hackers In Their Hunt For Sensitive and Valuable Information?
Recently, researchers at the University of Washington successfully hacked a software program using DNA, the biological source of life.  By incorporating a genetic molecule into malware, they took control of the computer.
To create the malware, the team translated a simple computer command into 176 DNA letters:  A, G, C, and T.  Ordering copies of the DNA from a vendor for $89, they fed the strands to a sequencing machine, which read the gene letters and stored them as binary digits, 0s and 1s.
According to these researchers, potentially hackers could use blood or saliva samples to gain access to university computers, steal information from police forensics labs, or infect genome files shared by scientists.  As DNA sequencing goes mainstream, the problem could worsen as the value of stored data increases, making it a more lucrative target for hackers.
For now, however, DNA malware does not pose much of a security threat. The University of Washington researchers admit that they created the "best possible" outcome by disabling security and other controls in the DNA sequencing machine, and by adding vulnerabilities to a little-used bioinformatics program. The hack also required an uncanny level of sophistication, as the malware code had to adhere to short-read DNA guidelines.
As sequencing read-lengths increase and while the data and analysis centralize in the cloud, DNA malware could become a more serious security threat. Consequently, manufacturers will have to battle test sequencing software and compression algorithms to prevent vulnerabilities in system designs.

ARK's statements are not an endorsement of any company or a recommendation to buy, sell or hold any security. For a list of all purchases and sales made by ARK for client accounts during the past year that could be considered by the SEC as recommendations, click here. It should not be assumed that recommendations made in the future will be profitable or will equal the performance of the securities in this list. For full disclosures, click here.
https://ark-invest.com/wp-content/uploads/2017/08/ARK-Disrupt-Issue-88.png
295
845
ARK Invest
https://ark-invest.com/wp-content/uploads/2020/01/ARK-Invest_Logo.png
ARK Invest
2017-08-21 08:00:23
2017-08-21 12:01:42
ARK Disrupt Issue 88: Electric Trucks, Blockchain, Cryptocurrency, and DNA