Please enjoy ARK Disrupt Issue 83. This blog series is based on ARK Brainstorming, a weekly discussion between our CEO, Director of Research, thematic analysts, ARK's theme developers, thought leaders, and investors. It is designed to present you with the most recent innovation takeaways and to keep you engaged in an ongoing discussion on investing in disruptive innovation. 
1. The Unsung Heroes of Artificial Intelligence Are Data Labelers
While data is key to artificial intelligence (AI), investors may not appreciate that the data must be labeled, a task that could become overwhelming. For images, the task is fairly simple, tagging pictures with identifiers like "cat" or "landscape". For autonomous driving, the challenge becomes daunting, as data labelers have to inspect the video recordings from test vehicles and draw bounded boxes around signs, cars, pedestrians, and other objects. An article in the Financial Times this week highlighted the sheer scale of this task:
Each hour of driving can take hundreds of hours for its conversion into useful data, says David Liu, chief executive of Plus.ai, another Silicon Valley start-up developing autonomous driving systems. "We need hundreds of thousands, maybe millions of hours of data" for self-driving vehicles to go everywhere, he says, requiring "hundreds of thousands of people to get this thing done" globally.
In other words, if data is the fuel for AI, then raw data is the crude oil and labeled data the gasoline. Like the oil refining process, data labeling is laborious and costly. For a full discussion of this topic, see @jwangARK's tweetstorm.
2. Revolut Raises Capital and Adds Cryptocurrencies To Its Platform
London-based Revolut is a fintech startup that enables consumers and businesses to exchange "cash" in multiple currencies. The company's aim is to provide "free international money transfers, fee-free spending, always at the interbank exchange rate." Its no-fee card offers interbank foreign exchange rates, free bank transfers in 26 currencies, and £200/€200 free ATM withdrawals. Its premium card offers £400/€400 ATM withdrawals as well as other features for just $6.99 per month.
Resolut recently raised $66 million to target North America and Asia and to enable cryptocurrency purchases, sales, and transfers in-app. According to Reuters, "users will now be able to hold, exchange, spend and transfer bitcoin the same way they use other currencies. Rival cryptocurrencies ether and litecoin will soon be added."
ARK is intrigued that a service enabling low-fee and frictionless currency exchange is including cryptocurrencies as it scales. We look forward to monitoring the global expansion of Revolut, with a special focus on its cryptocurrency exposure and experience.
3. Google, WhatsApp, and Amazon Vie To Become Mobile Payment Platforms In India
India's payments landscape has changed significantly in the aftermath of the demonetization that took place last November. A new wave of companies now offers digital and mobile payment options to consumers who have been adjusting to the removal of 500 and 1000 Rupee bills from the banking system. Paytm and Mobikwik, for example, have scaled much more quickly than otherwise would have been the case, with Paytm reaching roughly 200 million active users.
That said, the competition will intensify as tech giants like Google GOOG, FacebookFB and AmazonAMZN launch payment services based on India's United Payments Interface (UPI). Google has tested its platform on the UPI and is awaiting final approval from National Payments Corporation of India (NPCI). At the same time, Facebook's WhatsApp is seeking approval for an in-message payment capability, as Amazon India and Hike also focus on messaging platforms. Replicating WeChat's model, Tencent-backed Hike has rolled out an in-app payments wallet to facilitate transactions for its 100 million monthly active users.
The winners of this battle are likely to be those companies with superior access to consumer data and the strongest engagement with their users. Facebook's WhatsApp and TencentTCEHY-backed Hike have had the edge recently, but this battle is in early days. Unlike China, India is giving foreign companies a better than even shot at success in potentially one of the biggest markets in the world.
4. Autonomous Electric Cars Will Cause Significant Consolidation In The Auto Industry
Based on ARK's research, the transition to autonomous electric cars will lead to significant consolidation in the auto industry. The Herfindahl-Hirschman Index (HHI) is a good measure of market concentration: the higher the number, the more concentrated the industry. Because China does not export many cars, we have analyzed the global electric vehicle (EV) market both with and without China.
As shown in the chart below, the concentration in the EV market outside of China is much higher than that including China. This difference highlights a significant increase in the number of Chinese EV manufacturers vying to leapfrog traditional auto manufacturers as transportation moves onto the grid during the next five to ten years. Also interesting to note, the HHI divided by 100 is a rough gauge of an industry's gross margin, suggesting that EV manufacturers could enjoy higher margins than traditional auto manufacturers, unless or until China begins to export EVs.
Interestingly, last week auto associations in the U.S., Europe, Japan, and Korea sent a letter to China's Minister of Industry asking for China to lower quotas for EVs. In other words, grappling with the transition from autos powered by the internal combustion engine to EVs, traditional auto manufacturers are quite concerned about the potential competition from China.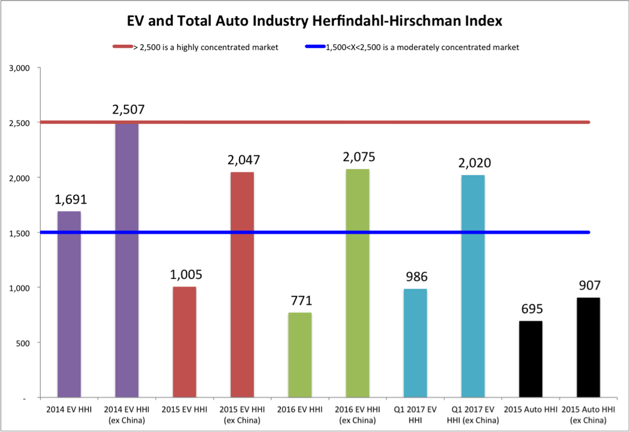 Source: ARK Investment Management LLC
5. CAR-T Is A Significant Breakthrough In The Fight Against Cancer
In a unanimous 10-0 vote this week, the FDA's Oncologic Drug Approval Committee (ODAC) recommended that the Food and Drug Administration (FDA) approve the first immunotherapy involving genetic modification. Chimeric antigen receptor T-cell therapy (CAR-T) harnesses and revs up a patient's immune system to target and kill malignant cells while preserving healthy cells. Thanks to ODAC's recommendation, the FDA could approve Novartis's CAR-T treatment for pediatric acute lymphoblastic leukemia (ALL) by the end of September. Then, Kite Therapeutic's CAR-T drug for aggressive Non-Hodgkin's Lymphoma (NHL) will be up for approval in November.
"I think this is the most exciting thing I've seen in my lifetime," exclaimed Dr. Tim Cripe, an oncologist on the panel. CAR-T therapy provides curative treatments for metastatic cancer patients who have failed more than three lines of therapy and often are on death's door. Though in early days, CAR-T has delivered complete remission rates in the range of 35-90% in trials thus far.
Based on the advisory committee panel's report, the biggest challenge for CAR-T will be manufacturing. While manageable for a small group of clinical trial patients, the production of biologics at scale – maintaining their potency and efficacy – will be the prime differentiator among CAR-T companies. ARK believes that this challenge will force companies to source allogenic as opposed to autologous T-cells, or donor-derived as opposed to patient-derived T-cells, which also will lower the cost-of-goods sold.
While successful in some liquid tumors in these early days, CAR-T therapy has yet to be validated in solid tumors. As a result, companies are pressing ahead with "multiplex" CARs and T-Cell Receptor (TCR) technology. That said, twenty years in the making, CAR-T finally is close to commercialization!

ARK's statements are not an endorsement of any company or a recommendation to buy, sell or hold any security. For a list of all purchases and sales made by ARK for client accounts during the past year that could be considered by the SEC as recommendations, click here. It should not be assumed that recommendations made in the future will be profitable or will equal the performance of the securities in this list. For full disclosures, click here.
https://ark-invest.com/wp-content/uploads/2017/08/ark-disrupt-issue-83.jpg
295
845
ARK Invest
https://ark-invest.com/wp-content/uploads/2020/01/ARK-Invest_Logo.png
ARK Invest
2017-07-16 08:00:23
2017-08-17 16:34:29
ARK Disrupt Issue 83: AI, Fintech, Autonomous EVs, and Cancer Breakthroughs