Please enjoy ARK Disrupt Issue 101. This blog series is based on ARK Brainstorming, a weekly discussion between our CEO, Director of Research, thematic analysts, ARK's theme developers, thought leaders, and investors. It is designed to present you with the most recent innovation takeaways and to keep you engaged in an ongoing discussion on investing in disruptive innovation. To read the previous issue, click here.
1. Tesla Hosts an Electric Semi Event
Follow @TashaARK & @skorusARK on Twitter
Last Thursday, TeslaTSLA validated much of ARK's recent research on autonomous electric trucks. In a piece published in late September, ARK explained how an electric semi would be 20% cheaper to operate than a diesel semi, as measured by costs per ton-mile, and how autonomous electric trucks would enjoy lower operating costs than rail transportation over the medium to long term. ARK also concluded that the EV semi would have four motors and charge in fewer than 30 minutes on a nationwide supercharger network. Elon Musk corroborated these research conclusions during the debut of Tesla's electric semi truck on Thursday night.
What did surprise us was the range of the electric semi. Because 80% of routes are fewer than 250 miles long, ARK anticipated that Tesla would introduce a truck with a range of 200 miles, to be charged at either end of a journey. Musk announced instead that the range would be 500 miles, enabling round-trip routes without charging.
Despite the larger battery size, Musk explained that the semi could charge and enable up to 400 miles – 80% of its range – in just 30 minutes. The batteries will be fast-charged up to 80% to avoid the damage that would occur with charging into the 80-100% range.  He seemed to be suggesting either that the "mega-chargers" will deliver much more energy than current superchargers, or that they will combine superchargers and charge separate battery packs simultaneously.
The grand finale of the night was the debut of the latest roadster. Its specs include acceleration from 0 to 60mph in 1.9 seconds, top speed of more than 250mph, and range of more than 600 miles, all for only $250,000.  In other words, the fastest and best cars on the roads around the world soon will be electric.
2. Deep Learning Beats Radiologists in the Detection of Pneumonia
Follow @jwangARK on Twitter
One of the most promising applications for deep learning in health care is medical imaging. This week, a team at Stanford University released a paper detailing how a program trained by deep learning diagnosed pneumonia from x-ray images with better accuracy than expert radiologists. It was able to detect the incidence of pneumonia, provide a confidence score, and pinpoint it with heat maps, as shown below. In addition, the program outperformed previous systems in the identification of 14 other lung and lung-related diseases, including emphysema at 90% accuracy.
Although taken for granted in the west, two-thirds of the global population lacks access to medical imaging and radiological diagnostics, according to the World Health Organization (WHO). Often the shortage is not of equipment but of experts to interpret the images. Thanks to deep learning, everyone in the world should have an opportunity to benefit from the best that health care can offer. ARK estimates that AI powered radiology could be a $16 billion market at full penetration.
3. Square Cash Opens Up to Bitcoin Purchases and Sales
Follow @bhavanaARK on Twitter
SquareSQ is building a financial services ecosystem that empowers and delights its merchants and consumers. Partnered with merchants at every step of the selling process – including payments, invoices, and inventory management – Square is gathering data and gaining differentiated insights into their needs. As a result, it has created successful new products and services like "Square Capital" and "Square Cash".
Square Cash is the peer-to-peer (P2P) payments service that is competing with PayPal's Venmo in the US.  It has surpassed Venmo as the top ioS finance app and ranks in the top 50 of all ioS apps, as shown below.
Strong Growth in Square Cash App: Ranking Based on Number of Downloads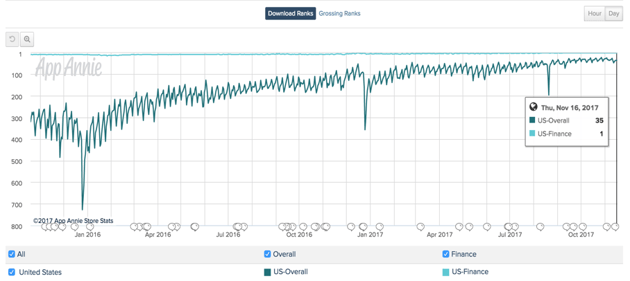 Source: App Annie
Now, Square is testing a feature that will allow users to buy and sell bitcoin, proof positive that it is at the forefront of payments technology.  Square is validating bitcoin's emerging role in the payments ecosystem and could become important to its mainstream adoption over the long term. Square Cash could serve as both a P2P interface and a wallet, separating account balances into crypto deposits and crypto savings.
4. Digital Pills
Follow @msamyARK on Twitter
This week the Federal Drug Administration (FDA) approved its first "digital" pill aimed at improving patient adherence to prescriptions. Apparently, roughly $100 billion is lost each year because patients skip prescriptions.
Composed of copper, magnesium, and silicon – all safe ingredients found in foods – the digital pill's sensor generates an electrical signal when it interacts with stomach fluids. Transmitting data to a patient's patch, the signal alerts physicians and up to four approved family members and friends.
While digital pills should eliminate the noise from non-compliance and improve the results of clinical trials, some critics are questioning their psychological impact on patients. The FDA approved the first digital pill for Abilify, a drug prescribed for schizophrenia patients. Typically, these patients skip doses and then experience paranoia. The risk is that digital pills will exacerbate their paranoia and schizophrenic state.
That said, the digital pill should be a boon to most patients. Elderly and/or busy patients do forget to take medications and will benefit from reminders generated from their patches. Family members should take comfort as well. As long as it is "opt-in", ARK believes that the digital pill will increase patient prescription adherence and eliminate noise from future clinical trials. All good!

The information provided is for informational purposes only. It does not constitute any form of advice or recommendation to buy or sell any securities mentioned. It is intended only to provide observations and views of the author(s) at the time of writing, both of which are subject to change at any time without prior notice. Certain of the statements contained herein are statements of future expectations and other forward-looking statements that are based on ARK's current views and assumptions and involve known and unknown risks and uncertainties that could cause actual results, performance or events to differ materially from those expressed or implied in such statements. Past performance is no guarantee of future results. Equities may decline in value due to both real and perceived general market, economic, and industry conditions. For a list of all purchases and sales made by ARK for client accounts during the past year that could be considered by the SEC as recommendations, click here. It should not be assumed that recommendations made in the future will be profitable or will equal the performance of the securities in this list. For full disclosures, click here.
https://ark-invest.com/wp-content/uploads/2017/11/ark-disrupt-banner-2.png
295
845
ARK Invest
https://ark-invest.com/wp-content/uploads/2020/01/ARK-Invest_Logo.png
ARK Invest
2017-11-20 09:00:23
2017-11-20 16:07:18
ARK Disrupt Issue 101: Electric Semis, Deep Learning, Bitcoin Purchases, and Digital Pills