Please enjoy ARK Disrupt Issue 100. This blog series is based on ARK Brainstorming, a weekly discussion between our CEO, Director of Research, thematic analysts, ARK's theme developers, thought leaders, and investors. It is designed to present you with the most recent innovation takeaways and to keep you engaged in an ongoing discussion on investing in disruptive innovation. To read the previous issue, click here.
1. Autonomous Cars Are Beginning to Pass Skeptics on the Highway 
This week WaymoGOOG announced that it is testing cars with no driver in Phoenix. Instead, a Google engineer sits in the backseat, at least for now. Within a few months, Waymo plans to launch the world's first autonomous taxi service, sooner than most analysts expected.
A few years ago, ARK published a chart depicting when automakers had planned to launch autonomous cars, shown below. Since then, most have altered their original plans.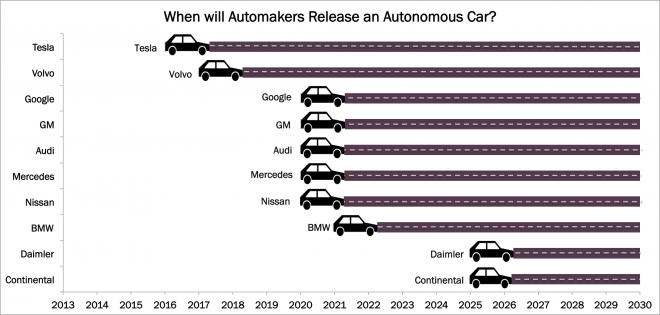 Source: https://ark-invest.com/research/googles-driverless-car-massive-data-request
Back in 2014, Tesla TSLA was collaborating on semi-autonomous vehicles but broke ties with Mobileye in 2016 and now plans to release its own software enabling fully autonomous cars to drive from LA to New York. While Volvo's plan to launch fully autonomous cars in Gothenburg is on track, engineers still sit behind the wheel, as did Google's during their early runs in Phoenix earlier this year. Volvo expects to launch fully autonomous vehicles by 2020 or 2021. In 2014, GM'sGM President said that autonomous technology would be ready by 2020, but did not commit to full scale commercialization by that time. Recently, GM's CEO announced that its subsidiary, Cruise Automation, will eliminate the need for a front seat safety driver in its test vehicles within the year. Collaborating with Bosch, Daimler also has accelerated its timeline and committed to fully autonomous cars within 5 years, as opposed to 2025.
ARK Invest has forecast that fully autonomous cars would commercialize in 2019. If Google, GM, and Tesla hold to their timelines, human driving could become optional within the next year, somewhat sooner than we anticipated.
Autonomous cars will change the auto industry on a monumental scale. Adjusted for inflation, personal transportation costs have not changed in 100 years.  During the next few years, autonomous taxi networks could undercut traditional taxi costs by 90% and personal vehicle costs by 50%. Once pie-in-the-sky, self-driving cars should make their debut within the next year.
2. Intel Will Build High-End GPUs to Compete Against NVIDIA 
IntelINTC has hired AMD's chief GPU architect, Raja Koduri, to create a new line of high-end discrete GPUs, effectively declaring war on NVIDIANVDA. During the last few years, NVIDIA has eclipsed Intel as the fastest growing and most influential chip company of the artificial intelligence (AI) age.
NVIDIA's success in the PC market never sat well with Intel. From Intel's perspective, Moore's Law should have enabled CPUs to integrate and subsume the functionality of all other chips. Instead, GPUs have surpassed CPUs in both performance and sales growth. That GPUs have not succumbed to integration has challenged Intel's prestige, company narrative, and stock performance.
Historically, Intel has made two attempts to build discrete GPUs. In 1998, it launched the Intel i740 which flopped based on poor performance.  It cancelled the second, Larrabee, after "missing key product milestones". Both attempts involved 'novel' architectures that proved uncompetitive.
Given Koduri's experience in building high-performance GPUs at AMD, Intel could take a more conventional approach and ship a competitive chip. That said, beating NVIDIA at its own game may not be a realistic goal: with its multi-decade discrete GPU experience, AMD has not been competitive with NVIDIA in years. At Intel, the challenge will be that much more difficult.
3. The CME and CBOE Are Preparing to Launch Bitcoin Futures
In the last two weeks, responding to clients' growing interest, both the Chicago Mercantile Group (CME) and the CBOE have announced plans to launch bitcoin futures by the end of this year. Active in the space since 2016, the CME has introduced bitcoin benchmarks that will become integral to pricing on its exchange.
Early indications are that each contract will be comprised of five bitcoins and that each tick will be $5 per bitcoin, or $25 per contract. To expand the market, the contracts will be limited to 20% volatility per day and will settle in cash.
Given futures and options, the bitcoin ecosystem should begin to attract institutional interest, increasing liquidity in the space much sooner than analysts have anticipated. Both the CME and the CBOE seem to be recognizing bitcoin as a new asset class, paving the way for mainstream acceptance.
4. The Human Cell Atlas: Half the Solution Is Understanding the Problem
Last month, a group of 130 biologists, physicists, computational biologists, and technologists from 18 countries convened in Israel to launch The Human Cell Atlas (HCA) initiative. By 2022, the consortium hopes to release an atlas of all human cell types and to produce 3D maps of cell-to-cell interactions at the DNA, RNA, and protein levels, aiming to assess how changes in these networks drive disease-states.
With ~220 cell types, an average human is made up of 32.7 trillion cells. Scientists still are trying to understand the molecules that make up various cells and how they interact with one another in tissues, organs, and systems. As Aviv Regev quotes in the HCA white paper, "The need for a human cell atlas is very clear. We cannot deeply understand how biology works without more detailed understanding of its most basic functional units."
Single-cell RNA sequencing is the scientific breakthrough that has enabled the HCA. RNA decodes DNA and causes protein synthesis. Even though the underlying DNA is the same, RNA decodes DNA in each cell type differently.
Technological advances in RNA sequencing and single-cell analysis have convinced scientists that the HCA will be able to complete its first task by 2022. As shown below, thanks to advances in sequencing, the number of cells that scientists can analyze in a single sequencing run has scaled from dozens to hundreds of thousands during the past five years.  Single sequencing RNA could be poised to decode the secrets to life and death.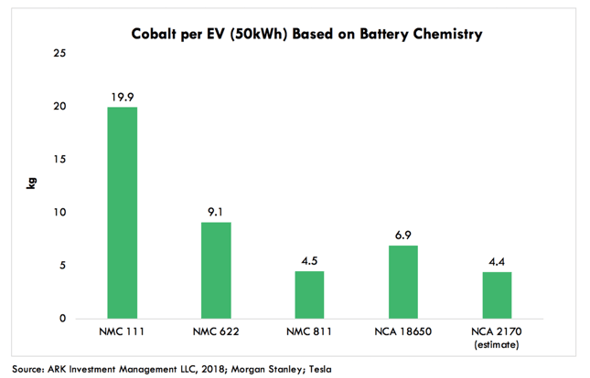 ARK's statements are not an endorsement of any company or a recommendation to buy, sell or hold any security. For a list of all purchases and sales made by ARK for client accounts during the past year that could be considered by the SEC as recommendations, click here. It should not be assumed that recommendations made in the future will be profitable or will equal the performance of the securities in this list. For full disclosures, click here.
https://ark-invest.com/wp-content/uploads/2017/11/brainstorming_100.png
295
845
ARK Invest
https://ark-invest.com/wp-content/uploads/2020/01/ARK-Invest_Logo.png
ARK Invest
2017-11-14 09:00:23
2017-11-16 13:38:16
ARK Disrupt Issue 100: Autonomous Cars, GPUs, Bitcoin, and Cells